Do You Struggle To Convert
Shoppers Into Buyers?
Learn Exact Strategies We Use To Grow Brands On Shopify
A team passionate about growth
Here's how we do it
Conversion Boosting Site Audit
A well structured site using the proper tools brings more high-quality customers into your conversion funnel. With our team of experts, you can get on track faster using proven methods and apps based on your current metrics.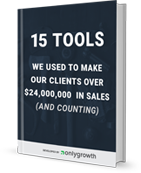 DOWNLOAD THE 15 TOOLS TO ACHIEVE MASSIVE GROWTH
Get the 15 tools we used to generate our clients over 30% more revenue in 90 days
What happy customers are saying
"Within just two months, our orders are already up 60%; conversions have increased by 39%; and our average order value has gone up by 8%. Only Growth truly lives up to their name!"
BORIS OAK

"Only Growth was able to quickly prove their value and worth to our business. They bring extensive knowledge and experience to the table, along with an exceptional level of professionalism."

JERRAD GREEN "The team at Only Growth has a deep understanding of what it takes to grow ecommerce brands. They have a wide range of core competencies and a knack for turning visitors into customers."

ADAM LEE
Your Shopify Plus Partner
Imagine a faster, easier way to turn casual shoppers into high-value customers for life. What could that do for your brand? Let's find out, together! Working with your core team, we grow your bottom line by attracting more visitors, improving your conversion rates, and enticing first-time customers to come back for more.