7 Simple Ways To Optimize Mobile For Gift Giving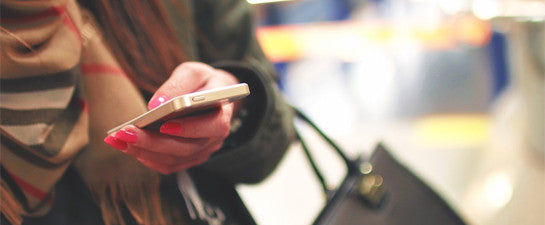 1. Holiday Marketing Campaigns
Look out online shop owners! There's a new type of ecommerce shopping coming down the chimney this holiday season… And it's mobile.
Sure, mobile shopping is nothing THAT new, as it's already been around for a few years, but according to a recent report by Monetate.com, mobile accounts for 38.86% of all visits to ecommerce sites.
Quite an impressive stat actually, when you take into consideration that number was closer to only 3% in 2010.
Conversion rates also seem to be getting better for mobile, now 3.22% for tablet and 1.16% for smartphone, up 12% and 7% in Q2 2015 respectively.
Meaning it's more important than ever for Shopify store owners to not only ensure your online store is mobile responsive, but optimized for your mobile customers as well if you really plan on bringing home the holiday ham this year.
All themes purchased from the Shopify theme store are mobile responsive out of the box and available for under $180. Lots of themes are free too. One of people's biggest mistakes is buying a Shopify theme from ThemeForest for $50 and thinking it's awesome, but then having a ton of responsive issues. All themes approved by Shopify and available in the theme store went through a rigorous process to be approved.
There are a lot of articles out there for ecommerce shopkeepers to optimize their online stores for the holiday season and plan their holiday marketing campaigns, so if you're strapped for ideas be sure to check out our previous post, "7 Easy Ways You Probably Didn't Think Of To Boost Holiday Revenue."
We've already gone over the basics, such as deciding which holidays you choose to base your online marketing campaign around, building your mailing list, creating ad schedules/promotional calendars, as well as promoting a few cool apps for you to check out like AdRoll retargeting and Automatic Catalogue Builder, but if you're interested in more ways to make your customer's yuletide experience more extravagant, we've got a few more ideas for you to help optimize your Shopify store for mobile shopping and gift giving this holiday season:
Sitelinks
Sitelinks are becoming more popular among Google advertisers, and should certainly be on your Christmas wish list this season… Basically, Sitelinks appear in your paid Google as and link to specific product pages located within your online store that customers might find interesting.
Here's an illustration if you're unsure what sitelinks are:
Ads with sitelinks have been shown to outperform ads without them. Sitelinks might be especially convenient for mobile shoppers as they simplify and reduce searching time on mobile browsers. However, since sitelinks are only shown on the top 1-2 advertisements on Google, and you'll have to bid for those spots, they might not be the cheapest route for a marketer on a budget.
Free Gifts App
You may also optimize your customer's mobile experience for gift giving this holiday season by doing something as simple as transforming your shopper's ecommerce experience with one of Shopify's greatest features and easiest customizable add-ons for store owners: Apps.
Secomapp's Free Gifts App allows you to offer free gifts and discounts to your customers when they purchase items at your store.
How does it work?
When people think of the holidays you think of gift giving, and as an online store owner, this can valuable asset to your marketing efforts this time of year. Free Gifts create good tidings, lots cheer, and hopefully keep your customers returning more often.
Reward customers in the following ways: gifts on certain products, gifts on purchases, free samples on purchases, and promotional messages/banners.
ShopPad App
Optimize your online store for mobile, including iPads, iPhones, and Android devices without going through the trouble of having to maintain different versions of your online store. Get your ecommerce shop up and running properly on mobile devices before Black Friday and the holiday shopping frenzy begins by clicking here.
2. List Arrival Dates & Shipping Deadlines On Product Pages
Keeping important dates in mind this holiday season is not only important for planning and organizing your marketing campaign, but also optimizing your online store for customers …
Customers are just as likely as you to forget shipping deadlines if they're not reminded on time, and is there anything worse for gift giving this holiday season than having your customers miss out on special offers?
One way to consider reminding shoppers is by listing arrival dates for parcels/presents as well as shipping deadlines right on your product pages.
Show a Countdown For Limited Time Sales
Try to make your marketing efforts consistent when deciding on which days you think are best to have promotions for your online store. Get creative when planning special offers, clearance sales, emails, and designing customized banners. One way of doing this is showing a countdown for limited time sales or have a count say X items left. Target these shoppers with 'last chance' sales to create urgency.
Check out BOLD's Daily Deal Software when planning your holiday marketing campaign and optimizing your online store for gift giving.
3. Create Holiday Gift Cards
If you're anything like the vast majority of holiday shoppers you never know what to get anyone, and procrastinate leaving everything to the last minute.
Lucky for you and your online shoppers, Shopify allows ecommerce store owners to create gift cards: https://docs.shopify.com/manual/your-store/gift-cards
Stylize your gift cards with festive designs and use banner ads, emails, and other reminders, such as last minute shopping cart or upsell options, to let your mobile shoppers know your store now offers gift cards.
4. Allow Customers To Recommend Gifts
Refer a Friend App
ReferralCandy's Refer a Friend App can work great to for people who think a gift is great for someone else but already bought a gift for that person.
Add a Want Button
If there's something you often see people doing on mobile platforms it's browsing social media. Allow holiday shoppers to browse your online store and add inventory to their 'wish lists', and increase your social media campaign. Check out the WANT Button App for Shopify.
5. Allow Customers To Give Subscriptions
Black Friday and Cyber Monday, the biggest shopping days of the holiday season, are almost here. NEW to Shopify this year was the Recurring Orders App, which allows customers to purchase recurring subscriptions on individual products.
Your customers may purchase subscriptions from your ecommerce shop for a pre-paid amount of time… And remember, nothing works better for getting your store new customers than a referral of a friend or loved one from a satisfied customer.
Allow mobile holiday shoppers to gift a subscription for your online store this holiday season, the gift that keeps on giving all year!
6. Holiday Themed Navigation Featuring Gift Ideas
When planning your holiday marketing campaign and optimizing your online store for mobile shopping this holiday season, don't forget to give your shoppers constant reminders of your special offers, events, coupons, inventory clearance sales, and gift ideas. One great way to do this is utilizing customized footers.
An example of this is on the Green Canyon Outfitters site (who happens to be a client of ours) where we re-did the footer for the holiday season:
(Source: Green Canyon Outfitters)
As you can see, Green Canyon Outfitters online store features Popular Gift Ideas right there in the footer, and with a mobile responsive website, would make it easy for your holiday shoppers to find gifts for others.
Also, as another idea, there's a Stocking Stuffer link at the bottom which links customers to your featured holiday products and gift ideas for <$50.
Another good example is the top header navigation of ZooShoo.
(Source: ZooShoo)
7. Solutions To Optimize Your Shopping Cart
Optimizing your store's online shopping cart for mobile shoppers, or in general for that matter, seems like something so simple it could often be overlooked by store owners.
Take a look at the following graphic showing shopping cart conversion and abandonment rates on Black Friday from 2011-2014:
(Source: Statistica)
Shopping cart abandonment rates in 2014 were 72.43% indicating more time might ought to be spent adding features to your online shopping cart in order to retain customers.
This can be difficult, as Shopify's checkout page doesn't let the regular customer make edits to the code, but there are built-in settings that can work such as social login for account creations to reduce customer checkout time, and thankfully, apps.
Reduce Customer Checkout Time
There are a couple of quick, easy solutions you can use as a Shopify store owner to reduce customer checkout time: Enable guest checkout
and…
Setup auto opt in for marketing emails: This will help automate the focus on collecting your customer's email addresses in order to improve your online store's email marketing campaigns going into the new year.
Offer a Gift Wrap Option
Save your customers time and make a few extra dollars by offering gift wrapping, which not only increases your Average Order Value, but also encourages gift giving among your customers.
For Shopify's tutorial on adding a gift-wrap option click here, or check out Product Options.
Product Upsell App
Increase your Average Order Value during the holidays by installing BOLD's Product Upsell App.
Customize your store's online cart for both mobile and desktop shopping experiences, and increase the amount of every sale with a customer conversion rate of 22%!
Free Shipping Bar App
Free Shipping Day (December 21st) is becoming more and more popular, and might be relevant to boosting your sales. Especially if your online store sells items with high shipping costs. Free Shipping Day began in 2008 as an effort to extend the online shopping season past its peak on Cyber Monday.
If you wish to register your online ecommerce store for Free Shipping Day, please visit the Free Shipping Day merchant registration websites: freeshippingday.ca and freeshippingday.com
To further optimize your online ecommerce shopping cart, offer your customers free shipping any time you choose, and customize their mobile gift giving experiences in the form of an app, check out Hextom's Free Shipping Bar.
Last Second Coupon App
Optimize your store's shopping cart and assist your holiday marketing campaign and promotional schedule by offering your mobile customers customizable coupons upon exiting your shop.
Looking for a way to drastically decrease the high percentage of shopping cart abandonment rates? Hextom's Last Second Coupon App could be the solution you're looking for to convert more customers.
Strapped for time or need help implementing any of the above or not exactly sure how? Reach out to Only Growth for a free consult.