How a Lifelong Inventor Overcame a Last Minute Launch Crisis & Impressed Starbucks CEO Howard Schultz With a Mug That Keeps Your Beverage the Perfect Temperature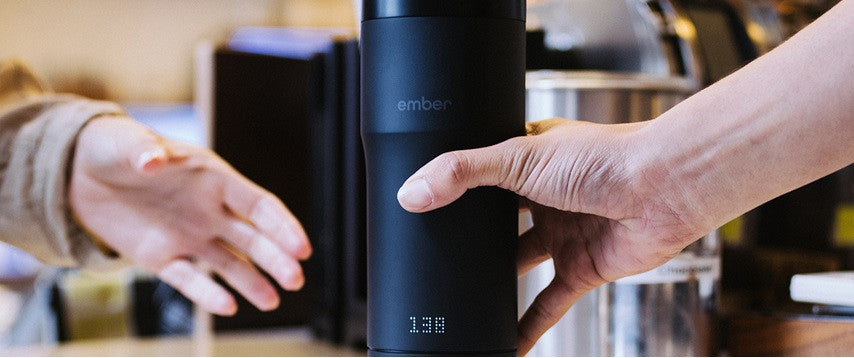 It was a bite of cold eggs...
That's what launched Clay Alexander, an inventor with more than eighty patents to his name, down a path to solving a problem that has annoyed each and every one of us.
"This is just wrong," Alexander recalls thinking. "It's the 21st century and my plate isn't keeping my eggs warm."
Alexander was in the kitchen chatting with his wife when he got the itch...
So he quickly began connecting coils and batteries with a standard dish plate, and created the first ever temperature controlled plate designed to keep each bite of a meal, including the last, piping hot.
"I tested it out on a piece of halibut," Alexander says. "It worked great. I cut into the last piece and it was as warm as the first."
But the temperature controlled plate wasn't sexy enough to launch a brand and business around...
That's when Alexander started looking around the kitchen for other problems he might be able to solve in a similar fashion.
What he came up with will catch your eye...
Just like it did one of the most iconic Chief Executives in the business world.
The Perfect Temperature
The temperature control technology Alexander had patented...
It deserved a better introduction to the world than in the form of a plate would be shoved inside cupboards and possibly remain a secret.
What Alexander needed was something more visible...
Something beautiful that thousands of people would be seen carrying around in public; something so majestic it would cause strangers to inquire about it.
The traditional mug, used by millions of tea and coffee drinkers, seemed like a perfect fit:

Image via: National Coffee Association
Scalding coffee is painful and can't be enjoyed...
Conversely, lukewarm coffee can ruin what promised to be the perfect cup.
What if Alexander could build a mug guaranteed to keep coffee, or even tea, at the perfect temperature for hours on end? And what if the mug's temperature was adjustable so people with different warmth preferences could adjust it to meet their needs?
With a handful of new patents and a beautiful design, Alexander set out to prove the concept in an Indiegogo campaign that seemingly set records:
More than $360,0000 raised
Nearly 2,000 backers
Exceeded the goal by 556%
Thus the Ember, a temperature adjustable mug that allows people to enjoy their coffee or tea at the perfect temperature from the first sip to the last drop, was born into a world that loved it. Even better, Ember can be used on its own or with a smartphone or smartwatch application that allows users to name their mug, remotely adjust the temperature, and load presets so it remembers how you like your favorite drinks.
"It's just so beautiful and a much more viral product than a plate," says Josh Tuz, Ember's Director of Finance and Business Development. "It's something that will be seen out and about so there's also some natural word of mouth marketing there that doesn't cost us anything."
Ember makes for an unforgettable drinking experience...
One the company says will forever change the way coffee and tea are enjoyed.
But to achieve that on one of the largest stages in the world...
The company would need a last minute miracle to meet one of the most important deadlines of its life.
A Launch to Love
Ember is easy to fall in love with on its own...
Why shouldn't it be?
Alexander has surrounded himself with a rock star team of product designers and engineers formerly of Apple, Google, and Amazon Labs.
Now combine that with the company's stacked lineup of well-connected advisors and investors, and it's easy to see how big doors can open quickly.
And none are bigger than the C-Suite door at Starbucks...
Yep, Howard Schultz, the coffee giant's CEO, was so impressed with Ember he wanted to sell the mugs in one hundred of the company's top stores. "It's big deal that Howard wanted to partner with us," Tuz says. "We're all so busy day to day, but found it important to take a moment to celebrate this achievement."
There wasn't much time for celebration though...
The Starbucks launch was scheduled for a Monday...
It was already the Thursday prior and Ember's existing development partners couldn't move fast enough to install a participating Starbucks store locator on Ember's website in time for the launch.
"We were in crisis mode," Tuz recalls of the November 2016 predicament. "We were coming down to the wire with less than a week to launch and we couldn't risk not having a store locator up and disappointing customers looking for Ember at Starbucks."
The Starbucks launch countdown clock was ticking...
Fortunately, Tuz had recently been introduced to James Corr, founder of OnlyGrowth, a digital marketing agency with expertise in turning casual shoppers into high-value lifetime customers. With time running out, Ember turned to Corr and his team to salvage the launch.
"James jumped in immediately," Tuz says. "It blew me away how fast we started seeing results. James and his team were literally pushing out development changes overnight."
By Friday, Corr and his team at Only Growth had implemented a store locator so site visitors would have no problem finding the nearest Starbucks selling Ember. Tuz says Corr continued tweaking the site all weekend and had it launch-ready by Monday's deadline.
"That kind of execution is very important to us," Tuz says. "I love his sense of honesty and how quick and reliable he is. James and Only Growth delivered when it mattered most for us."
The results?
Ember sold out in most Starbucks stores across the country in the first week
Ember's direct online sales increased 2,600% week over week
Starbucks ran out of inventory as well:
The first shipment of Ember Mugs it sold in four days...
Its next batch of inventory was gone in eight hours, then six hours for the next.
"We were stunned," Tuz says. "We had set lofty goals and had really high hopes for the launch and blew through all of them."
And when restaurant servers and new mothers hear what's next...
They'll likely to be stunned too.
The Nike of Drink & Dishware
Ember mugs are in such demand...
Ember is now working to quadruple its manufacturing capacity.
"Everyone says it's a good problem to have but it's still a problem!" Tuz says in regard to building inventory.
While production capacity is expanded...
Tuz suggests Only Growth is optimizing the Ember site to lift conversions. Conversion rate optimization will likely be a key growth driver as Ember looks to expand its product line. "We want to be the Nike of drink and dishware," Tuz says. "Our goal is to become a household name and we think we can use the mug's success to launch other products."
Other products like:
Temperature Adjustable Plates- to be used in high end restaurants that currently use large warming ovens to keep steak warm and on which servers often burn their hands
Temperature Adjustable Baby Bottles- to be used by new mothers now burdened with having to warm formula bottles in boiling water on a stove and squirt drops of milk on their wrist to check temperature
"I'm really excited about the future and what the Ember brand is on the cusp of becoming," Tuz says.
So too are Ember's celebrity investors like:
Singer & songwriter Demi Lovato
Pop stars Nick & Joe Jonas
NFL star Ndamukong Suh
Famous investors, iconic Chief Executives, and a product so popular no one can keep it in stock...
It's certainly a long way from that fateful day in Alexander's kitchen...
And coffee and tea drinkers the world over have a cold bite eggs to thank for it.
"Just look around the kitchen and you can see the potential for temperature control," Tuz says. "We really flipped the technology hardware launch model on its head by having granted patents before we launched meaning that a lot of the products we're envisioning are already protected."