How Sockless Europeans Inspired a New Father to Launch a Premium Dress Shoe Business That Doubled Conversions Almost Overnight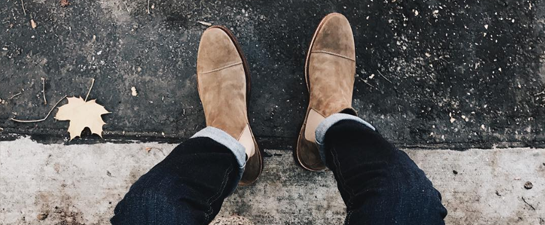 If you're like Kory Stevens and routinely went sockless as a child...
It's either humorously counterintuitive or highly expected that the Los Angeles native would grow up and found an ecommerce business with a mission of stylishly covering men's feet.
"I grew up not wearing socks," Stevens says with a laugh.
It may not be surprising then to learn that, on a post-college graduation trip to Europe with his expecting wife, Stevens couldn't take his eyes off of people's feet. "The guys in Italy and France were all sockless and I loved the clean, simple look of it," Stevens recalls.
One reason, according to Stevens, is that men lack high quality and remarkable no-show sock options that provide comfort and style despite being designed not to show when worn with premium footwear.
"The only thing available to men are plain white and nude no-show socks that constantly slip down off your heel, making it cumbersome to even wear them at all," Stevens says. "It's similar to the boxer-brief mentality. Just because they can't be seen doesn't mean men don't crave something that's beautifully designed and of high quality."
Kory and his wife were recently graduated and expecting their first child when they returned to the US and started prototyping.
After months of sampling and perfecting the product, Kory launched a Kickstarter campaign out of his two bedroom apartment to see whether premium no-show socks might appeal to men. Forty-six thousand dollars and one thousand backers later, Stevens had proof of concept.
"I had no idea what I was doing," Stevens says of the Kickstarter campaign. "But I'm really proud of what we accomplished."
That initial kickstarter became the start of Taft Clothing - Kory was on a mission to stylishly cover men's feet all over the world.
However, that quick, initial success was also a precursor to a disaster Stevens would come to both love and hate.
The Sock As a Gateway
Gorgeous images of feet...
That's exactly what Stevens used his no-show socks to snap. Knowing his customers would quickly grow tired of images of socks and feet, Stevens routinely paired his no-show socks with different kinds of high end shoes to create images to be shown to Taft's nearly 300,000 Instagram followers. Instead of just posting images of their product, they showed how their product could be worn and styled a variety of ways, they made it their task to show their audience how to pull off the sockless look using Taft no-shows.
"The socks were an introductory product," Stevens explains. "I always planned to expand beyond socks."
Stevens posted a wide variety of shoes on the Taft Instagram page and the immediate feedback he received turned out to be invaluable market research. Though he had sampled a wide variety of products - from t-shirts to dress pants, Stevens quickly realized he already had an audience for beautiful shoes. He had been carefully observing the types of shoes his audience responded to long before he ever intended to sample shoes. The idea was to offer unique dress shoes that couldn't be found anywhere else. Then, instead of going with a traditional retail mark-up, Stevens made the decision to offer the shoes exclusively online - cutting out all middlemen, and allowing him to sell his shoes for hundreds of dollars less than retailers.
"The whole time I was selling socks I was identifying what kind of shoes men wanted," Stevens says. "I knew the shoes I was designing would sell because of the reaction I'd get from the images I posted on social media."
Knowing the shoes would be in demand...
Stevens sent his designs to Spain where the shoes would be handmade according to the desires of Taft's loyal social media followers. "There's a big obstacle selling premium men's shoes online because men want to touch and try them on first," Stevens says. "I had to be sure they'd sell before spending all of my money on that first batch of inventory."
There was a lot on the line...
With shoes and now a second baby on the way Stevens, who says he has no development or design skills, needed an ecommerce platform that was quick and easy to set up. "I always feel uncomfortable when trying to build a site because it's not my strong suit," Stevens admits. "That's why I chose Shopify because it allowed someone like me with no technical know-how to easily set up a beautiful site that people constantly compliment."
Turns out Stevens' market research was spot on and his custom designed shoes were a hit...
Which turned out to be a massive problem.
"It was an inventory nightmare," Stevens says with a hint of pain in his voice. "I knew they were going to sell but I was blown away at how quickly it happened."
The shoes were so popular that, at any given time, eight of ten styles or sizes offered were out of stock. Remember, the shoes were being made by hand by craftsmen in Spain so the turnaround on a new order was two months.
"It was extremely frustrating to keep running out of inventory," Stevens says. "I know it irritates customers, which is why I'm so focused on solving the problem. I feel really loyal to Taft's customers because they've allowed me to live a lifestyle that allows me to work from home and spend more time with my wife and children. It's why I'm extremely motivated to do better."
Taft sold tens of thousands of pairs of socks from 2014-2015 and then sold thousands of pairs of shoes between 2015-2016...
In fact, the company grew revenue 400% year over year.
"Shopify is absolutely amazing," Stevens says. "They built a product that allowed someone like me to create a beautiful site and sell millions of dollars worth of shoes."
But Stevens was leaving a lot of money on the table...
Not just because of inventory issues but because his beautiful site had some downright ugly conversion rates.
No Strings Attached
It was a chance meeting online...
But one that is now helping to transform Taft from a one man show into an ecommerce juggernaut powered by strong partnerships that yield significant returns. "James is unbelievably helpful," says Stevens of James Corr, founder of OnlyGrowth, a digital marketing agency with expertise in turning casual shoppers into high-value lifetime customers.
One free site audit later...
And OnlyGrowth had provided Stevens with a list of ten site change recommendations likely to increase conversions and help Taft Clothing accelerate sales growth. "Then James tells me he'd love to fix the first three for me for free," Stevens says. "I was blown away because there were no strings attached. Wow. He just hopped in there and made the fixes. I was really impressed."
After upgrading to Shopify Plus, an enterprise-level ecommerce solution for high volume merchants who desire to focus on growing their businesses rather than the technology that underpins it, Taft and OnlyGrowth partnered to create a site that would prove much more user friendly:
The Size Filter- instead of forcing customers to search every style for their size OnlyGrowth implemented a size filter that simply allows men to choose their size and instantly see the styles Taft has in stock in their size
"Before Taft had a size filter customers got really irritated," Stevens says. "For instance, if they discovered I was out of their size in a particular style they'd have to go all the way back to the beginning of the process and start their search again with a new style. The size filter makes the user experience so much better because now customers know upfront what we have in stock."
Customized Checkout- after Taft upgraded to Plus, OnlyGrowth customized the checkout so it matches and is consistent with the rest of Taft's store
"The custom checkout is huge," Stevens says. "It makes the checkout a lot smoother, removes a lot of friction, and helps build trust which definitely reduces abandoned cart rates."
Combine these additions from OnlyGrowth with a new batch of Taft's best selling inventory and the company's conversion rate doubled. "There were several days when our conversion rate was ten percent," Stevens says. "Everything came together at once and produced amazing results."
Check out the results over a nearly three month period in 2016:
September:
Added to cart: 2.20%
Reached checkout: 1.35%
Purchased: 0.90%
October:
Added to cart: 2.85%
Reached checkout: 1.74%
Purchased: 1.17%
Nov (1-5th):
Added to cart: 4.27%
Reached checkout: 2.70%
Purchased: 1.90%
"Our revenue is tripling month over month," Stevens says. "I've taken a lot of risks and stressed my family so I can only afford to partner with people I know I can count on and James is a guy I trust with my store and my money and someone I want to be around for a long time."
Speaking of time...
It won't be long, if all goes as planned, before Stevens finds himself in a familiar position.
Where's the Ceiling?
Getting ahead of demand...
For Taft, that means taking on a larger inventory position in early 2017 and growing into the company Stevens has always envisioned. "We have no idea where the ceiling is," Stevens says in reference to the company's future growth. "It's like getting in a car that doesn't have a speedometer and not knowing how fast you might be able to go before maxing out."
Expect Taft to test it's limits in the new year...
Remember, until recently Stevens has been a one man show growing the company without any money and no paid marketing. Once new inventory is in place, Stevens plans to turn on Taft's biggest marketing blitz and is expecting impressive results.
"I suspect the company is going to be five times bigger next year," he says. "We're gonna rev the engine and see how fast we can go."
If Stevens is right...
The bump in inventory and marketing combined with OnlyGrowth's narrow focus on further lifting Taft's conversion rate, Stevens concedes it's possible he'll find himself in an all too familiar position; sold out.
"We're going to flip the switch together," Stevens says. "OnlyGrowth is really powerful and I'm really excited about our future together."