How To Get Your Products Online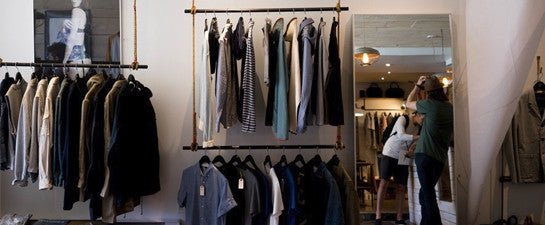 7 Essential Things to Know When Launching an Online Retail Store
Ok, you've found success with your salon, shop, or studio. At this point, you might even have your own line of branded products. So, what's the next step toward growing your business lucratively?
In this article, we cover everything you, as a store owner, need to know before launching your online store.
1.) Why Sell Products Online?
With the landscape of brick-and-mortar retail ever changing and giving way to a future of online shopping, now, more than ever it's important for stores to adapt to change or be left behind.
According to a 2015 retail survey1, 70% of all shoppers surveyed browsed products online before purchasing them in-store. You've heard of the aged concept of 'showrooming'. Well, this is a concept known as 'web-rooming'.
As a retailer, how can you ever expect to expand your market reach if your customers and prospects can't find you online?
If you think about it, consider all the limitations your shop can now exceed: Improve your revenue, save money on operating expenses, continue to make sales after hours, reach customers beyond your locality, utilize niche social media and online marketing to generate buzz and garner publicity.
All of these are valid reasons for choosing to sell your products online, and if you give it a few moments, we're sure you can easily think of a few more.
2.) Ease of Selling Products Online
Is offering products for sale online difficult? Not really.
In fact, with online retail platforms like Shopify, Volusion, and Bigcommerce now available, selling your products online is easier than ever.
How does it work? Basically, an ecommerce platform is an all-in-one solution for retailers including a customized online storefront and secure shopping cart. Online retail platforms are simple and easy to use, with no computer coding required, and to start you can try most of them free for 14 days.
Showcase your products online how you choose. Sell one product or a thousand. Accept orders almost instantaneously from any device. Get notified by email or mobile when you have a new sale, and fulfill one or multiple orders with just one click.
Ecommerce platforms support global merchant payment services, everything from debit to credit cards to PayPal, and allow your business to accept payments fast, secure, and with ease.
3.) Considerations Related to Tax and Shipping Cost
If you're new to online retail and ecommerce, or not used to selling your products nationally, or even internationally, you probably have a lot of questions related to how tax rates and shipping costs are factored in.
Now with online ecommerce platforms such as Shopify, Volusion, and Bigcommerce accept any type of currency with a built-in currency converter, and have tax calculated automatically based on your customer's location.
When it comes to shipping costs, you have the option of setting-up shipping rates by fixed-price, tiered pricing, weight, category, quantity, or location based rates. Customized shipping rates allow for optimization of cost and eliminate overcharging and overpayments.
4.) Customer Care
Next thing you're probably wondering about is customer service. "Ok, I've started my online store, but now what happens if someone has a problem? How does customer support work? For customers? For myself?"
Luckily, all ecommerce platforms we've mentioned offer 24/7 support for online retailers. In addition to phone and email support, there are numerous help forums and frequently asked questions available.
As for customers, publish your own comprehensive help section, provide a contact form, and if you have the resources your own live chat support is only an app away.
5.) SEO/Online Marketing
Now that your store is online, how do you market and advertise it?
Well actually, with the resources available online today from both retail platforms (including Google analytics) and marketing firms, search engine optimization (SEO) and directing traffic to your website is easier than ever.
According to research2, 60% of consumers begin researching products with an online search. So, you want your website to appear in search engine results. Online retail platforms allow you to increase this potential using customizable headlines, titles, and meta-tags, as well as having experts you can hire on standby to assist in the same way.
Did you know 61% of shoppers read product reviews before making a purchase3? Why not consider adding an SEO-friendly product review page to increase sales?
With mobile now accounting for over 40% of all visits to ecommerce sites4, worried if you're online store will be mobile-friendly? All themes purchased from Shopify are fully-optimized and mobile responsive.
Of course, the world of online marketing is much too complex to encompass everything in such a condensed article, but we're hoping this at least gives you a place to start.
6.) Email Marketing
Since email marketing accounted for 20% of all online ecommerce orders as of Nov 20155, behind only search engines, email may be the first marketing channel you wish to explore after SEO.
Offer free gifts and incentives to build your mailing lists. Hire an expert or DIY. Create and utilize current marketing trends such as video campaigns. Be creative. Want the best professional advice? Subscribe to an online marketing blog.
7.) Social Media
Integrate your online store with social media with built-in integration from ecommerce platforms.
Use Pinterest, Instagram, Facebook, Twitter, and Tumblr in your marketing endeavours. Build a following of your most loyal customers who'll automatically get new photos/videos in their news feed every time you post.
Sources:
1.) https://www.pwc.com/gx/en/retail-consumer/retail-consumer-publications/global-multi-channel-consumer-survey/assets/pdf/total-retail-2015.pdf
2.) http://www.adweek.com/socialtimes/81-shoppers-conduct-online-research-making-purchase-infographic/208527
3.) http://www.adweek.com/socialtimes/81-shoppers-conduct-online-research-making-purchase-infographic/208527
4.) http://www.monetate.com/resources/research/#ufh-i-34269668-ecommerce-quarterly-q3-2015
5.) https://pulse.custora.com/pulse/channel