How To Use Gamified Quizzes & Exclusive Facebook Groups To Create Products Guaranteed To Sell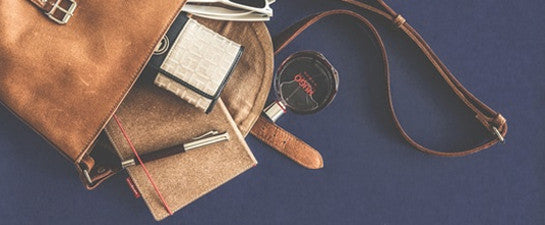 Is your next product guaranteed to sell out?
Are you certain your next entrepreneurial endeavor will result in the digital equivalent of a long line of customers waiting outside your ecommerce doors?
If you've ever guessed wrong and wound up stuck with a glut of inventory you had to practically give away to recoup some of your losses, this post was created for you.  
A product guaranteed to sell may sound too good to be true. The idea of predicting exactly what customers want long before taking an inventory position is far fetched, right? Your skepticism may be warranted but a pair of Forbes Thirty Under Thirty entrepreneurs have developed a system that allows them to see the future and create highly personalized products they know in advance will sell to thousands of customers.
They're sharing their secret in this post...
$11 Million in Five Years
It started with $200, a trip to Costa Rica, and a chance meeting with an artist.
Griffin Thall and Paul Goodman, co-founders of Pura Vida Bracelets, were on a college graduation trip to Costa Rica five years ago where they happened upon a talented local artisan who hand crafted bracelets. The two each had a hundred dollars in their pocket and paid the man to make them 400 bracelets.
When Thall and Goodman returned home to San Diego, they put their bracelets in a bowl and offered them for sale at a local boutique. In just a few days the bowl was empty and Thall and Goodman had turned $200 into $1,000. Since then, Pura Vida has grown into a company that generates between 700-1,200 orders a day and $11 million dollars in sales a year.
The accelerated growth Pura Vida has been experiencing is due, in part, to the creative and interactive ways it co-creates products with its customers. Below are two methods you can adapt to create products you know will sell.
Method #1: Gamified Interactive Quizzes
The bikini business can be boom or bust.
Rather than guess in regard to fickle fashion trends, Thall and Goodman are leveraging the popularity of Buzzfeed style quizzes laced with a bit of gamification to co-create the perfect bikini with the company's target audience.
Not only is it a way for Pura Vida to extend its product line beyond bracelets, but an intelligent strategy that ensures customers will actually like and pay for what they create.
The Build Your Own Bikini quiz, powered by Pura Vida's quiz making partner QZZR, is a gamified version of market research that has resulted in nearly 75,000 people volunteering exactly how they'd like Pura Vida to build its next new product. To delve even further into the mind of the customer, Pura Vida has rolled out Build Your Own Bikini Part Two, a quiz more than 32,000 people have taken:
"It's market research in real-time that allows us to make a better product," Thall says. "We're testing the waters and getting data to find out exactly what our customers want before we actually make the product."
The quiz asks visitors to build their own bikini based on the illustrations provided:
After the quiz, visitors are told their bikinis are in production and are rewarded for their time:
More than 12,000 quiz takers have provided their email addresses with the intention of being notified the moment Pura Vida's new bikini is for sale. Not only is it a segment Thall can sell to immediately when the bikini launches in April, but Pura Vida plans to create lookalike audiences on Facebook to leverage the list it has built.
But that's only one way Pura Vida is using Facebook to all but guarantee success...
Method #2: VIP Invitation-Only Facebook Groups
Exclusivity can be addictive…
It's one reason Pura Vida's VIP invitation-only Facebook Group has been such hit among Pura Vida's most loyal customers. Even more important, the group is providing Thall and Goodman with real time insight the pair can use to co-create products guaranteed to sell. Here's how Pura Vida describes the Group to prospective members:
"Pura Vida VIP is an exclusive, invite-only membership that consists of our top 25,000 customers. The purpose of this group is to gain actionable insights from our most loyal fans. Members can vote on new product ideas, get exclusive VIP offers, and receive access to upcoming product launches."
Pura Vida VIP launched with an email blast to the company's 450,000 customers telling them their VIP membership was waiting. In just five hours more than 4,000 of the company's most loyal customers had  accepted the invitation. Membership has more than doubled twice since then. "It has been amazing," Thall says. "Our per post engagement is about twenty percent and our fans are going nuts."
For example, 385 VIP group members responded when Thall recently posed a question about bringing back a once popular water bottle:
Besides determining whether to revive older products and being able offer the VIP group special discount codes to stimulate incremental sales, Thall is also using the group for product development purposes:
Nearly 350 people responded in the affirmative proving Thall's concept and creating pre-order opportunities long before any inventory position is taken. "Such a simple question like this has given us priceless feedback," Thall boasts. "This is going to allow us to make much better decisions on product development."
It can also reduce spending on PPC ads.
"The VIP Group has the potential to save us hundreds of thousands of dollars," Thall notes. "In just a minute I can get instant feedback without having to pay for it which is something that's allowing us to crush it."
Conclusion
Cracking the product development code can be as easy as co-creating product alongside your audience by combining today's technologies with some age-old psychological triggers:
- Interactive & personal (quizzes)
- Exclusive & scarce (VIP groups)
Not only can co-creating product with your audience help you avoid being stuck with costly inventory no one seems to want, but it can also remove much of the guesswork once associated with product development and be used to predict exactly what your customers want to buy from you.