Three Ingenious Ways to Segment Your Email List to Boost Sales & Margins On Black Friday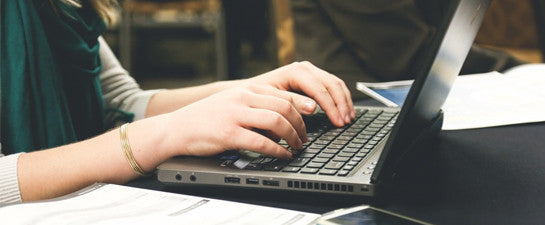 Interested in learning a Black Friday secret?
One that'll position you to leapfrog the competition, inspire customers to perceive you as really knowing them, and have a huge Black Friday & Cyber Monday even before the year's ultimate shopping bonanza begins…
The secret is intelligently segmenting your email list.
Why is segmentation, especially now, so important?
There's a lot on the line in the coming weeks especially when you consider that approximately 30% of annual retail sales occur between Black Friday and Christmas. That figure can be even higher, as much as 40%,for retailers like jewelers.
Last year, 103-million US consumers went shopping on Black Friday.
Intelligently segmenting your list before the holiday rush allows you to personalize the shopping experience, treat each of your contacts uniquely, and generate ROI from the middle of your marketing funnel. In fact, a recent study indicates 77% of email marketing ROI comes from triggered, targeted, and segmented campaigns.
Not sure you have time?
You'll likely make the time to segment when you consider the lift in performance it can deliver, according to a Mailchimp study of 11,000 targeted campaigns:

Image via: Mailchimp
Here then are three simple ways to segment your email list and and drive sales ahead of and during Black Friday and Cyber Monday:
Segment #1: Leverage Social Data to Create More Complete User Profiles & K.I.S.S. (Keep It Simple Stupid)
Segmenting your list to improve ROI doesn't have to be rocket science…
In fact, even the simplest of data points can have an outsized impact on conversions.
Baseline data like gender, age, hometown and other geographical information allows anyone with a list to begin segmenting and sending more relevant email. Despite the relative simplicity of these segments they can be extremely effective.
Just ask Johnny Cupcakes...
The online apparel seller once had an email list of 80,000 but initially didn't segment the list which resulted in everyone getting the same cookies cutter message. 
Here's how they solved the problem:
First, Johnny Cupcakes collected additional information about their list members from members' social media profiles. The data revealed insight like:
Gender
Age
Interests
Media habits
Brand preferences 
The data collected, and insight it revealed, allowed the company to segment its list and launch a more effective email marketing campaign in support of a new line of baseball t-shirts:

Image via: Econsultancy
The results?
Simply segmenting male versus female customers resulted in the following:
A 123% increase in conversions
A 141% increase in revenue per campaign
A 42% increase in CTR
Segment #2: Purchase History & Win Back Campaigns
Think you're special don't you?
Well your customers they're special as well and expect you to treat them as such.
Here's where using the data you have regarding purchase history can help your marketing message stand out as personal and a means of reigniting a conversation or relationship.
In fact, identifying a customer's purchase history allows you to upsell and cross sell just like Amazon does on Black Friday and every other day of the year. Offering your list personalized recommendations based on their purchase histories not only positions you to increase sales but also create a bond with customers that lets them know you intimately understand them like Amazon does:

Image via: Amazon
You might also pattern your personalization efforts after another of Amazon's tested tactics; offering personalized recommendations based on a customer's browsing history (or in your case time spent on a certain product page or SKU):

Image via: Amazon
I hear what you're likely thinking…
But I'm not Amazon nor do I have its vast resources?
Fortunately, you don't need pockets as deep as Amazon's. In addition to offering personalized recommendations via email you too can offer relevant recommendations on your Shopify Plus site based on user behavior with applications like this one which allows merchants to offer visitors four types of recommendations. 
Bought this also bought
Best sellers of the store
Recently viewed or featured
Cart recommendations
Uncertain of the payoff?
Research suggests 45% of online customers are more likely to shop on a site that offers personalized recommendations.
For instance, ASOS, an online fashion retailer, has a unique feature called 'Complete the Look' that recommends other products that match those the customer just added to their cart. The result is a potential lift in the average ticket price:

Image via: Gigya 
BONUS: What about dormant customers or those who haven't purchased in while?
It's a challenge most online retailers face…
Winning back dormant customers.
If you have customers who used to purchase from you often but are not doing so anymore consider approaching this segment with a bit of sincere attention in the form of special offers that could initially crimp margins but ultimately result in higher CLV. 
Why focus on list members who have strayed?
It'll likely cost you significantly more to win new customers this Black Friday than it will to please existing customers- even those who haven't purchased in a while:

Image via: Receiptful
Your existing customers are the digital equivalent of low hanging fruit.
Pick that fruit this Black Friday by offering smart personalized recommendations via email and on your site while simultaneously reaching out to old customers and offering incentives designed to make them fall in love with you all over again.
The 3-Step Process
First, you might even consider surveying this segment to better design incentives so you're not guessing or needlessly sacrificing margin:

Image via: Receiptful
Be sure to offer dormant customers something of value for their time; a free consultation, trial, or product. 
Secondly, be sure your email subject line contains a relevant message designed to arouse the emotion a dormant customer once felt for your brand:
Come Back and See What You Missed And Get A Coupon of $10
Subject lines like the example above, according to research, can result in win-back email campaigns that grow revenue by 66%.
Third, expedite the process of winning back dormant customers by creating a sense of urgency with tools that allow you to add a time limit to targeted discounts or offers:

Image via: Receiptful
Segment #3: Customer Lifetime Value
Your most valuable customers, those with the highest CLV, may not need the same margin-killing incentives as dormant or price sensitive customers.
In fact, the top 1% of ecommerce customers are worth 18 times more than your average customer.
What's your average CLV vs. the CLV of your best customers?
It's an important distinction to make especially as you consider how much to slash prices for flash sales and Black Friday sales events.
To better understand CLV  it's important to look under the hood and first identify the following three elements or RFM:
Recency- the date of a customer's last transaction
Frequency- the number of transactions made during a defined period
Monetary Value- their total spend for the period
Doing so can make it easier to organize your customers from least valuable to the most valuable:

Image via: Shopify
Note that the ones in red are your most valuable customers while the yellow region indicate customers with the lowest value. The data revealed in an RFM spreadsheet is in and of itself enough to create segments you can use to protect margins this holiday shopping season.
But what about CLV? 
CLV provides additional qualitative insight you can use to design higher converting and higher margin campaigns before, during, and after the holiday season. While digital marketers argue over which data points to include and leave out of CLV, here's a simple equation that'll help you calculate it: 

Image via: Conversion XL
Or you can use this calculator to help you determine the CLV of a customer.
To get your most valuable customers to spend more, and ultimately increase CLV, consider offering this segment targeted campaigns that include:
Technique #1: Smaller Discounts
Your highest CLV customer segment already loves your or what you sell and may not need a massive discount to purchase this Black Friday. Loyal customers may be more likely to respond to personalized marketing messages that illuminate your value proposition. Consider split testing your highest CLV segment with discounts of different values to determine the sweet spot that both increases sales and protects margins while competitors blindly discount and sacrifice margin.
Technique #2: Price Arbitrage
If you sell multiple variations of the same product consider a marketing message, including images, that positions the items alongside one another to test whether your most valuable customers are more likely to trade up. For shoppers less sensitive to price and more apt to perceive value in the context of higher pricing, offering similar products at different price points can increase average order value. 
Technique #3: Free Shipping Thresholds
While this may also be effective when targeting less valuable customers, offering free shipping thresholds is also one way to get your most valuable customers to add to cart:
Free Shipping on Orders of $150 or more
When you know the average order value of your most valuable customers, consider testing whether a free shipping threshold at a level above the average order value of this segment increases the average ticket.  
Your Responsibility
It's your responsibility to market intelligently this holiday shopping season.
Blindly discounting, broadcasting generic marketing messages to the masses, and crying over reduced margins is not the ideal way to spend your Black Friday & Cyber Monday.
Get a head start on the competition, ride that momentum into the holiday shopping season, and enjoy fatter holiday margins than the competition by segmenting your email list and sending targeted messages more likely to resonate and result in sales:
Collect social data to construct more complete user profiles
Offer personalized recommendations based on behavioral & purchase data
Identify your most valuable customers and offer incentives designed to increase their value
Even better, segmenting your list today not only prepares you to market more intelligently this holiday shopping season but well beyond.