Three Ingenious Ways to Use Influencer Marketing to Drive Holiday Sales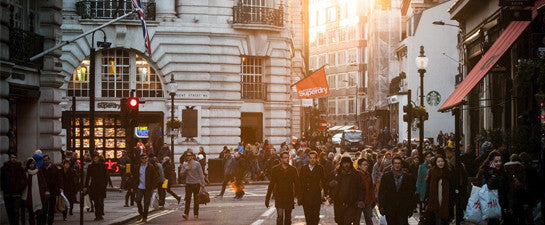 Interested in a 6X return on your money?
Influencer marketing, according to research, can generate $6.85 for every $1 spent.
In fact, if you combine influencer marketing with email marketing your ROI can climb to $38 or more.
Amazing, right?
The best part is influencer marketing can be really simple. You're leveraging someone else's credibility to help increase your ecommerce sales.
But there's nothing new about this practice.
In fact, influencer marketing has been in use since 1760, when Josiah Wedgwood, founder of the Wedgwood brand of pottery and chinaware, began soliciting and using endorsements from members of the English Royal Family to grow sales.
As an ecommerce marketer, you'll be losing out on holiday sales if you neglect influencer marketing. Keep in mind though there are different types of influencers:
Image via: Jeff Bullas
Don't have the budget for a celebrity endorsement?
No problem…
Micro-influencers may not have the reach a celebrity does, but they often do have the trust of key audiences ecommerce merchants may wish to target which you can leverage to drive sales even without a huge influencer marketing budget.
In fact, research from Experticity suggests 82% of consumers are more likely to follow the recommendation of a micro–influencer.
Here's an example...
Shoes of Prey collaborated with teenage beauty vlogger Blair Fowler, who at the time had more than 238,000 Instagram followers to increase sales by 300%.
ALERT: Note that effective influencer marketing has less to do with the quantity of social media fans and email subscribers and more with the quality of those fans and followers.
Fan or follower quality is a key topic to investigate when determining what to pay an influencer as Shareen Pathak recently explained:
"Influencers are going to start disappearing. Brands are going to start realizing the amount of followers you have doesn't mean shit. Just because photos look good and have 200,000 followers means nothing."
Think of a particular influencer's fans or followers as prospects; are they qualified prospects you're likely to convert, in part, based on the relationship they have with the influencer with whom you're considering a partnership?
If so, here are three smart ways to use influencer marketing to drive holiday sales:
Technique #1: Influence the Influencers With Video
Before you can engage in influencer marketing…
You have to effectively engage an influencer.
But if influencers are in high demand how do you reach them to ultimately reach their loyal audiences?
Video can act as a secret influencer conversion weapon.
In fact, explainer videos can be powerful marketing tools that not only catch the eye of an influencer with whom you wish to work but also ultimately drive sales.
For instance, KeyToConceive.com, an organization that offers a natural alternative to more intrusive and extensive fertility procedures, saw a 317% increase in sales when it began using an explainer video:
Image via: wiz Motions
Video can work for you in two ways:
When reaching out to an influencer for a possible collaboration
When leveraging the influencer to share your video with his or her fans & followers
Getting the Attention of Influencers
Influencers are often busy or perceived to be…
Your proposal will have to stand out if you want to gain their trust and forge a marketing partnership with them.
Adding video to your email can increase the odds an influencer open the email and actually considers partnering with you.  According to a report published by Forrester, including video in an email can boost click-through rates by as much as 200 - 300%:
Image via: Forrester
In fact, a dirty little secret influencers don't generally advertise is that they often ignore influencer marketing overtures from brands.
However, BreadNBeyond, a branding & animation firm, recently explained exactly how it produced an eye-catching animated explainer video that cut through the noise and got the attention of a key influencer:
Image via: BreadNBeyond
If you've done your homework, which includes:
Identifying influencers with audiences you wish to sell to
Evaluated the quality of the influencer's social media following
The next step is to impress the influencer in ways your competitors do not.
Using video can help you stand out in an influencer's inbox and result in collaborations that drive sales even beyond the holidays. For instance, once you've partnered with an influencer consider creating videos with the influencer as a co-branding exercise.
Technique #2: Persuade Influencers to Endorse  
What convinces consumers to become customers?
Social proof is one of the most effective forms of persuasion.
It can convert at even higher rates when influencers are providing social proof.
In fact, convincing an influencer to endorse or recommend your product or service can be much more effective than paying for traditional advertising:
Image via: Lindsay Nuttall
Endorsements from trusted influencers can emotionally nudge consumers to purchase from you when they otherwise might have considered a competitor:
Image via: WePlay
What's the key then to persuading influencers to endorse your offering?
Besides being perceived as valuable to the influencer you're targeting, consider the following tactics:
Send free samples to key influencers and ask them to share the product with their followers if they find them valuable as Pura Vida Bracelets has done to generate millions in sales
Consider paying influencers for endorsements or offering a commission to influencers already participating in conversations about your brand or niche
You might even consider stalking your best customers, identifying whether their followers are ideal customers, and reaching out to the best customers for case study or guest post opportunities or even creating an ambassador program
Remember, authenticity is key.
Influencers who sincerely love your product and are proud to tout it to their followers will likely deliver greater ROI than paid one-offs that may be perceived as shallow or self-serving.
Technique #3: Poach Your Competitors' Influencers
Which influencers are actually harming you?
Identifying key influencers who are recommending or sharing your competitors' products, or have done so in the past, with the people they influence is a research component influence marketers sometimes overlook or ignore when designing a strategy.
Example: Sprint recently poached Verizon's old pitchman known best for a series of "Can you hear me now?" television commercials:
Ignoring these influencers can result in material consequences.
Instead of writing off competitor influencers as people loyal to your competitors you might benefit by starting to look at them as opportunities. In fact, converting competitor influencers can result in multiple wins:
It can cost your competitors sales
It can simultaneously increase your sales
Poaching competitor influencers is a technique Vessel Video, a video platform subscription-based site, is doing as it ramps its effort to compete with Google's YouTube. In an effort to position itself as YouTube's first real competitor, Vessel Video is poaching approximately a dozen YouTube stars and making them Vessel launch partners.
Image via: MediaKix
How is Vessel poaching?
It's promising YouTube stars twenty times the revenue YouTube currently pays. Additionally, here's how MediaKix, which reports Vessel is backed by deep-pocketed venture capitalists, breaks down the financial components of influencer poaching:
"Vessel's numbers are especially alluring for content creators familiar with YouTube's current rev share model: Vessel shares 60% of subscriber revenue with content creators. In addition, creators will get 70% off revenue made from ads that run through their videos (compared to 55% on YouTube) as well as commission via a referral program for new signing up new users."
Beware as poaching can quickly become costly as evidenced by YouTube's counter offers to stars Vessel is attempting to poach.
However, if you've really built a better mousetrap than your competitors, poaching key influencers who are focused on creating value for their audiences may be a bit easier and less expensive than you think.
Final Thoughts
Generating massive ROI as influencer marketing can deliver entails a degree of risk other types of marketing lack; what if influencers ignore you or don't endorse your product?
However, you can increase your chances of success by building authentic relationships with key influencers by:
Standing out from everyone else asking to collaborate by creating compelling video
Creatively convincing influencers to endorse your product and provide the social proof you need to boost conversions
Poaching competitor influencers by paying them or showing them that your offering is a better value
Remember, investing the time and creativity necessary to build successful influencer campaigns can pay off during the holidays and beyond.