Happy New Year: Now Where's the Content Marketing Calendar You Desperately Need?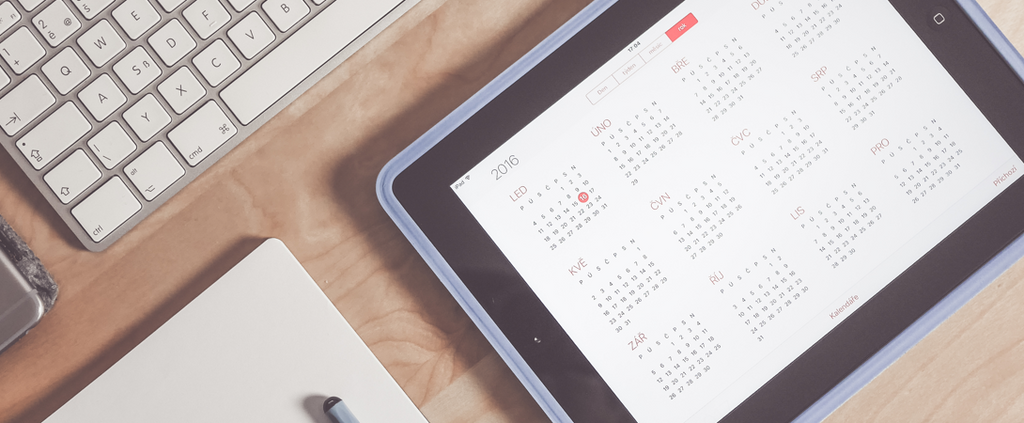 It's often a smarter, cheaper, and more effective way to talk to customers...
But your content marketing isn't likely to earn you a return on your investment unless it's strategically organized for the long term.
It's why you need a content marketing calendar.
Before we show you exactly how to create a calendar that works for you, let's briefly outline how content marketing is changing the way we talk to our prospects and customers and why doing so is essential to create a business advantage.
Benefit #1: Content Marketing is Cost-Effective

Image via: Demand Metric
It may be less expensive, but generating ROI from your content marketing hinges in part on being organized so you can:
Keep costs low
Create relevant content
Market your content efficiently
Create content consistently
Leaving gaps in your schedule can destroy any progress you might make. A comprehensive calendar can keep you on track and prevent you from making costly mistakes.
Benefit #2: Content Marketing Generates More Leads

Image via: Demand Metric
A steady flow of strong leads is absolutely essential to keep a business running and having unique and relevant content can help you achieve your objective. The key is being able to tie those new leads back to the content that drew them in and a good calendar is an essential tool to accomplish that goal.
Benefit #3: Your Site Traffic Will Get a Boost
Seemingly everyone is creating content...
But much of it is transparently selfish or of low quality which is a waste of time and treasure.
However, creating the right type of content for the right audience can dramatically improve your SEO and drive traffic.
BEWARE: Like product-market fit, you must identify a content-market fit if you want to outperform in terms of driving traffic:
Benefit #4: Customers Are Blocking Ads
It's a way to bypass ad blockers...
Millions of potential customers simply don't want to see your ads. In fact, while PPC can be extremely effective, a large chunk of these ads are being ignored purposefully. In 2016, 69.8 million Americans will use an ad blocker. In 2017, that number is expected to jump to 86.6 million.

Image via: Emarketer
Content marketing is one way circumvent ad blockers and elegantly deliver a marketer's message in a format valued by large swaths of your target market that are fed up with traditional advertising.
Creating Your Calendar
It's your compass...
Not only will it point you in the right direction but it will also position you to know whether you're veering off course in the new year.
In short, it's an editorial calendar focused on every aspect of your content marketing:
Topics to be covered
Audience to be targeted
Deadlines and schedules to meet
Where & when content will be distributed
Your calendar is akin to a contract with yourself illustrating exactly how you'll take an idea from conception to reality.
There are paid calendar tools you can use though a traditional spreadsheet will work just fine.

Image via: Hubspot
What To Fill Your Calendar With
Calendars aren't ends in and of themselves...
Your calendar is only as good as the ideas you include and the degree to which you execute.
Remember, it's just a skeleton...
Your job is to put meat on those bones.
Keep in mind you're not creating content for content's sake. Each piece you create, regardless of format, should be aligned with a business objective.
Here then are three important things to consider when populating your calendar:
Consideration #1: Target Audience Personas
These are similar to buyer personas the maker of a product or service might create...
Who exactly do you want to create content for?
You'll need to know:
Who these people are
The perceptions they have about brands, products, or services like yours
How your offering fits into their worldview
How and where they consume content
The journey they take when purchasing offerings like yours
Once you intimately understand the target audience for your content you can lay out a content drip strategy designed to:
Introduce or acknowledge the problem they have
Position your offering as a solution they can use to be the hero and solve the problem
Move the content consumer through the funnel and identify ways to shrink the sales cycle

Image via: Content Marketing Institute
Interview, survey, and read the comments associated with competitor content or reviews to better understand who you're creating for.
Here's a buyer persona template to get you started.
Consideration #2: Asset Selection & Creation
The type of content, format, and where it lives are key considerations...
The personas you create will initially direct your content. It's not like you'll be creating content in a vacuum. However, be experimental and mine your analytics for the pieces your target audience engages with most.
You're signing up to continually:
Reprioritize subject matter
Refine tone
Adjust length
Re-examine distribution
Understand, the concept of educating customers with content is nothing new. In fact, John Deere has been doing it for a century:
So what type of content (without knowing your audience persona or niche) should you be creating?

Image via: Hubspot
One question often not included in surveys designed to identify the type of content specific audiences want to consume is:
How much time do you spend consuming content related to our offering?
People may tell you they want to consume the content you plan to create but often lack the time to consume all they'd like. Don't make the mistake of creating a 5,000 word "ultimate" or "epic" guide that's better than anything in the world if your target audience lacks the time to consume it.
(HINT: Your audience may actually value those 5,000 words and desire to consume them but if they're too busy to read them you may have to convert them into a 15-minute podcast or snackable infographic.)

Image via: Hubspot
Don't discount how your content may also be used for purposes other than driving sales. Specifically, you might consider using content, such as gamification, to aid in product development.
Be sure to check out How To Use Gamified Quizzes & Exclusive Facebook Groups To Create Products Guaranteed To Sell.
Consideration #3: Distribution Strategy
It's one of the biggest mistakes content marketers make...
You spend time and money creating valuable content and expect your audience to find it, fall in love with it, and share it with those they influence.
It doesn't happen this way, at least initially.
You have to market your marketing.
Prior to marketing your marketing, optimize your content in two ways:
Ensure your content is aligned with keywords you're targeting
Ensure you are experimenting with and including specific CTAs that drive a desired behavior
The first optimization will help your content's organic SEO rankings which allows people to find your content when searching. The second optimization will help you convert users who do find your content and prompt the behavior you desire.
Your distribution strategy will be unique and based, in part, on your target audience's behavior. Some of the options you can choose from include:
Guest posting elsewhere & accepting guest posts in return
Dropping content into communities like Quora or Reddit that cater to similar personas
Paid sponsorships, social, PPC ads, or networks like Taboola or Outbrain that position your content alongside related content on high traffic sites
Rewarding consumers of your content for sharing it with those they influence
When designing your distribution strategy it's important to understand what and how your target audience is influenced. Let the following questions guide you:

Image via: Content Marketing Institute
This Year's Calendar
Remember to measure what you make so you can objectively judge its performance. Unlike product sales, content can easily fly under the measurement radar because it can be difficult to attribute revenue to content across devices.
Don't be fooled by vanity metrics or allow them to boost your ego.
Identify the KPIs that will measure whether your content is achieving the objectives you set.
If not, adjust your approach and your calendar.
If so, make plans in your calendar to do more of what's working.