How to Start Using Facebook Messenger for Ecommerce & Build Your Customer Relationships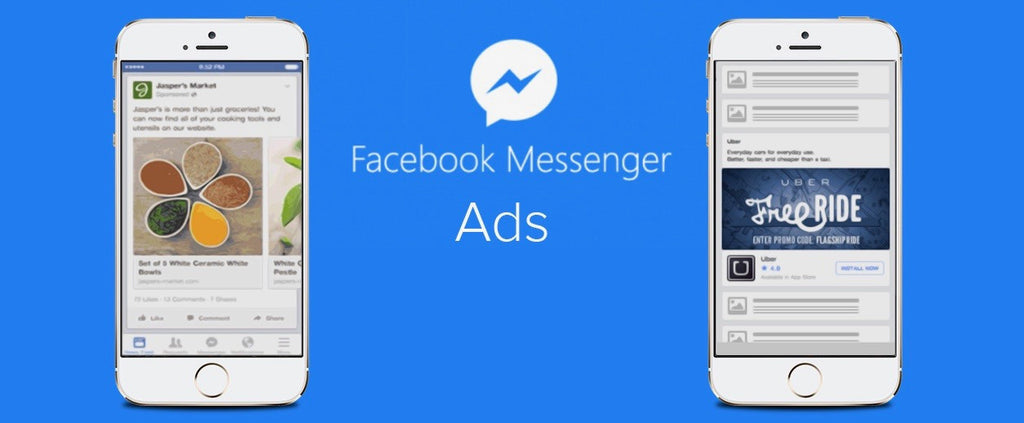 Note: This is a guest blog post by our partners at MuteSix, a Facebook advertising agency specializing in customer acquisition for ecommerce companies.
Facebook Messenger ads have a lot of potential, but they aren't being used nearly as much as they should.
Why? Well, because most ecommerce brands don't know how to use them effectively, or feel it's irrelevant for the ecommerce space.
I'm here to tell you that Facebook Messenger ads for ecommerce are going to be HUGE.
In this article, I'll explain why and how you should be using Facebook Messenger ads to grow your sales.
What is a Messenger ad?
A Messenger ad is located within the Facebook newsfeed and invites the user to message your Facebook page. Instead of leading them off to your website, Messenger ads keep the user on Facebook and redirects them to their inbox where they engage in a conversation through the use of automated bots.
Messenger ads are great because once a user replies, each line of communication between your page and prospect results in the user seeing a pop-up notification icon, which is massive for organic engagement.
RELATED READ: How to Create Cheap Video Ads for Facebook
How to Use Messenger Ads for Ecommerce Businesses
You should be using Messenger ads for your ecommerce businesses because it's the only ad objective that allows for private one-on-one communication. Dynamic product ads, conversion, and website click objectives are must-use objectives to grow your sales, but all offer the same end result.
Messenger ads allow for a unique form of communication that you can use at all levels of your sales funnel, from answering user questions, driving sales, or after-sales support.
Here's how you can start using Messenger ads to personalize the ad experience users have with your brand.
Build a connection – Less than 2% of entire website traffic convert on their first visit. Reasons range from not being interested in a product, price, lack of research, and not having built enough trust with a brand.
Messenger ads are perfect to use at the top of your funnel to build authority and create trust between your brand and the prospect. For example, if you sell laptops and tablets online, you can use Messenger ads to help the shopper pick the right product for their needs.
This is what Shop Spring does with their virtual shopping assistant:
Omni-channel sales experience – If a website takes more than four seconds to load, most users will exit their browser and go back to Facebook, while you, the brand, is charged for their click.
Even if you do everything in your power to speed up your website, if the prospect is using an old device or an unstable Internet connection, you're going to lose out.
The good news is that you can use Messenger ads to provide an omni-channel shopping experience and drive sales. Here's a chat I had earlier with an Expedia chat bot about booking myself a hotel:
The entire search process was done through Facebook Messenger with the bot returning me a few hotels that I can view by visiting their website.
It even allowed me to change my search criteria. This was all done using a bot in real-time!
Test Messenger ads to see if adding another step in your sales funnel will lower your conversions.
After-sales support – If your ecommerce business offers an SaaS tool, or tangible products that require some technical knowledge to set up or use, Messenger ads can be run showing them the best way to use your product.
HP Print Bot is a fully automated Facebook chat bot that helps customers who have bought a HP printer set up and print documents without issue.
Through the use of commands and images, it shows me how to link my computer to the printer and more.
By giving the user a range of options to choose from, you can walk them down the correct path.
You can create multiple how-to chat bots for each product or service you offer and through the use of custom audiences, serve the right Messenger bot to customers who bought a specific product.
Support bots can be used to answer the most common questions customers have regarding your products. Instead of spending a lot of time talking via email or phoning support, customers can be sent to a Messenger bot that gives them a step-by-step walkthrough of their problem.
Increase engagement – As an ecommerce business you want to reach your customers as much as possible, but at the same time you don't want to fatigue them with content that isn't personalized.
Messenger ads can be used to send daily, weekly, bi-weekly, or monthly updates straight to your customers' Facebook inboxes. The ways you can leverage this feature are endless.
For example, if you run weekly offers, every Monday you can automate chat bots to send an inbox message about your latest promo, which new items just came in, or what is being launched in the future.
The powerful thing with Messenger bots is that the user will receive a pop-up notification each time you send them a message. This ensures an almost 100% read rate.
The Wall Street Journal use a Messenger bot that sends their opt-ins breaking news on a number of topics each day.
It first asks if the user would like to opt-in to alerts and topics they would like to receive.
Once selected, the bot sends relevant news articles and presents the user with more topics to choose from.
This is done every day.
Conclusion
At first glance the objective of Messenger ads don't look that useful, but you have to get creative.
Through the use of APIs you can create Messenger ads that do just about anything, targeting all levels of your sales funnel.
If you aren't already using Messenger ads, I urge you to start today. They offer a new way to interact with prospects and actively get them to engage with your brand.
BONUS: The "Don't Make these Mistakes!" Facebook Campaign Checklist