Four Ways to Avoid a Deadly Post-Holiday Sales Slump (Plus 3 Bonus Tools)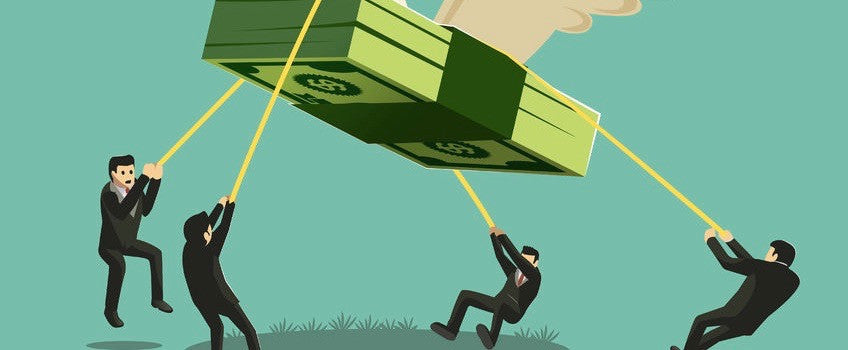 Got the digital equivalent of aspirin?
It's something you might need now that the holiday boom is in the rear view mirror and merchants face a potential post-holiday sales hangover.
Don't misunderstand, things are good...
According to eMarketer's holiday sales preview forecast, ecommerce sales in the U.S. were forecast to increase by 17.2% in 2016. It's a trend that has been accelerating for years as ecommerce increasingly takes share:

Image via: Emstatic
The spike in demand during November and December can change just as quickly as the weather though. While the shift toward ecommerce is strong and sustainable, ecommerce merchants who ramped up their advertising, inventory, and effort during the holidays often find themselves asking a big question this time of year…
What happens after the holidays?
As you will notice, many businesses struggle with post-holiday sales slumps. The dramatic drop in sales can be unnerving and it actually starts before the holidays officially end:

Image via: ComScore
A ComScore report shows how sales peak during the holiday season, particularly during Thanksgiving, Black Friday and Cyber Monday shopping sprees, and then fall off precipitously in the weeks that follow.
What causes this slump?
Blame Santa if you must...
After Cyber Monday, the holiday shopping boom begins to fade around Christmas and the New Year. After this period, some cost-conscious consumers inevitably take a break from and focus on the debt they may have incurred when buying gifts for others and themselves.
It gets worse...
In addition to a decline in purchases, some consumers will begin returning items they purchased or that they received as gifts.
BONUS #1: Don't let returns ruin a holiday season you thought was great. We've created this guide designed to help ecommerce merchants like you reduce holiday returns and protect your margins.
So is it possible to excel post-holiday?
YES!
You can still sell consumers- even those who splurged during the holidays- and avoid the dreaded post-holiday sales decline that can wreak havoc on a merchant trying to start the new year on the right foot.
Here are four ways to create buzz, boost engagement, and grow your business while simultaneously avoiding a deadly post-holiday sales slump:
Technique #1: Leverage Replenishment Cycles to Reduce the Time to Purchase Number Two
Your holiday customers, especially new ones, are goldmines...
So start mining!
Research suggests customer acquisition costs for many ecommerce companies are so high they're not likely break even financially if they rely solely on one time shoppers. For example, the same study found the average online apparel shopper did not become profitable for the retailer until he or she had purchased from the site four times:

Image via: Bain & Company
The takeaway here is that top performing ecommerce companies reduce the time it takes to turn a new customer into a repeat customer. In fact, research suggests top performing companies- those in the first quartile (Q1), prompt new customers to make a second purchase 12-days faster than lower performing merchants:

Image via: RJ Metrics
One way to reduce the time to purchase number two is to identify holiday purchases that require replenishment. In fact, product replenishment emails, which can be automated based on the length of the item's sales cycle, can help you stand out from  your peers.
Why?
Just twenty-percent of marketers expect to use product sales cycles to trigger behavioral email this year. However, it's something online eyeglass pioneer Warby Parker does successfully with emails like this one that notify customers their eyeglass prescription is expiring:

Image via: Hubspot
BONUS #2: Want to Boost Post-Holiday Sales & Generate Recurring Revenue?
Replenishment cycle products are perfect items to offer post-holiday consumers as subscription items. In fact, even items you might not at first blush perceive as something that would work well as subscription offerings can surprise you. Not only can subscriptions help you avoid a post-holiday sales slump, but they can also generate predictable recurring revenue. To get started with subscriptions, check out our guide - How to Use Subscriptions to Turbocharge Growth & Generate Recurring Revenue.
Technique #2: Hold A Contest For Your Customers
Monetize tradition and what's top of mind...
The new year, for many, is often celebrated by making resolutions.
According to Statistic Brain, 45% make new year's resolutions but only 8% achieve them:

Image via: Statistic Brain
Even worse, only 64% of people who make resolutions still remember and remain enthusiastic about achieving them after January. By June, less than half will even bother with their resolutions:

Image via: Statistic Brain
There's opportunity in resolution failure...
It makes January the perfect month to cash in on these resolutions. Usually, resolutions involve self improvement, weight, or money:

Image via: Statistic Brain
Capitalize on this insight…
Tailor your marketing by first surveying your customer base; offer something of value in return for their resolution. Afterward, you may segment by resolution and create contests, for customers who make qualifying purchases, geared toward what's important for each segment to achieve in the New Year:
Contests that offer a free online training course or book buying binge for the segment interested in self-improvement or education
Contests that offer free personal training at the gym of their choice for the segment interested in losing weight
Contests that offer a romantic couple's getaway trip to the segment interested in improving their relationships
Technique #3: Launch, Rebrand, or Partner to Offer A New Product
What was your best holiday seller?
Now imagine what might complement that item and cross sell it to those customers.
Consumers want more choice (63%), according to Nielsen, and 57-percent say they purchased a new item during their last shopping trip.
So, what is the driving force?
You might launch your own new product, rebrand an existing product, or partner with a third party that has already created something similar to what you'd like to offer. Either way, tailor your marketing based on what consumers want in a new product:
44% want affordability
23% want convenience
21% want the item to make life easier
20% want it to contain natural ingredients
19% want it to promote a healthy lifestyle
16% want it to be environmentally friendly
Notice the above preferences connect nicely, in some cases, with New Year resolutions- another lever you can pull and even combine with contests to avoid a post holiday sales slump.
Technique #4: Retarget & Turbocharge ROI
To this point we've focused on selling to new and existing customers...
But don't forget about the shoppers who showed intent to purchase during the holidays but for some reason abandoned cart without making a purchase. Retargeting, which serves ads depicting the images customers abandoned, are shown to shoppers as they surf elsewhere on the web or spend time inside applications like Facebook.
Personalized retargeted ads aim to remind consumers what they abandoned in your cart, lure them back to your site when clicked on, and offer you another opportunity to convert them. In fact, retargeting can yield double and triple digit lifts in conversions:

Image via: Digital Information World
Additionally, intelligently retargeting customers who have abandoned cart or spent significant time on a particular product page can also yield these results:
Visitors who see retargeted ads are 70% more likely to convert
Retargeted ads can have 10X higher CTRs
Retargeting can increase shopping cart recovery by 26%
BONUS #3: We've created a two part series of posts just for ecommerce merchants interested in using retargeting as a tool to boost sales in the new year and beyond:
Discover the dos and don'ts of retargeting & how to make it work for you here.
Discover the retargeting breakthrough that can reduce your customer acquisition costs by 25% and turn Instagram into a thriving sales channel here
Sacking the Slump
You don't have to be a victim…
While the numbers don't lie and the post-holiday sales slump is real you can mitigate the impact by:
Identifying replenishment opportunities and reducing the time it takes new customers to make purchase number two
Hold personalized contests aligned with the New Year's resolutions made by various segments of your customer base
Launch a new product or partner with a third party to offer something that complements your best holiday sellers
Retarget shoppers who abandoned cart and did not purchase from you during the holidays with relevant cart recovery ads
The holiday sales buzz may decline a bit but it doesn't have to end...
Use these four techniques to intelligently sack the slump and start the new year right where you left off last year.